Which Kurti brands are good? I was asked by one of my female friends, "Why don't you do some research?" After a week of searching, I discovered some of the best Kurti brands from the Indian market, which had been around for decades.
I felt incredible. There were so many different Kurti/Kurta brands on the market that choosing the best one was difficult.
I discussed the most common top 10 Kurti Brands in India 2023 and branded Kurtis name list in this article, and you can choose the Kurti brand that you prefer based on your preferences for branded Kurti collection and price range.
first and foremost make sure you have done proper body measurements for Kurti Design.
List of Branded Kurtis Available in India
Global desi
Fabindia
Libas 
Biba
Aurelia
Jaipur Kurti
Project Eva
Vishudh
W for women
Soch
A Brief Overview of the article:
In this post, I've compiled a list of some of the best ladies Kurti brands in India.
A short rundown of the list
Top brands such as Jaipur Kurti, Swadesh, and Fabindia are some of the best for cotton material clothing.
For strong festive wear, brands like Ritu Kumar's label and Pataudi's house are the best options. Kurti (kurta)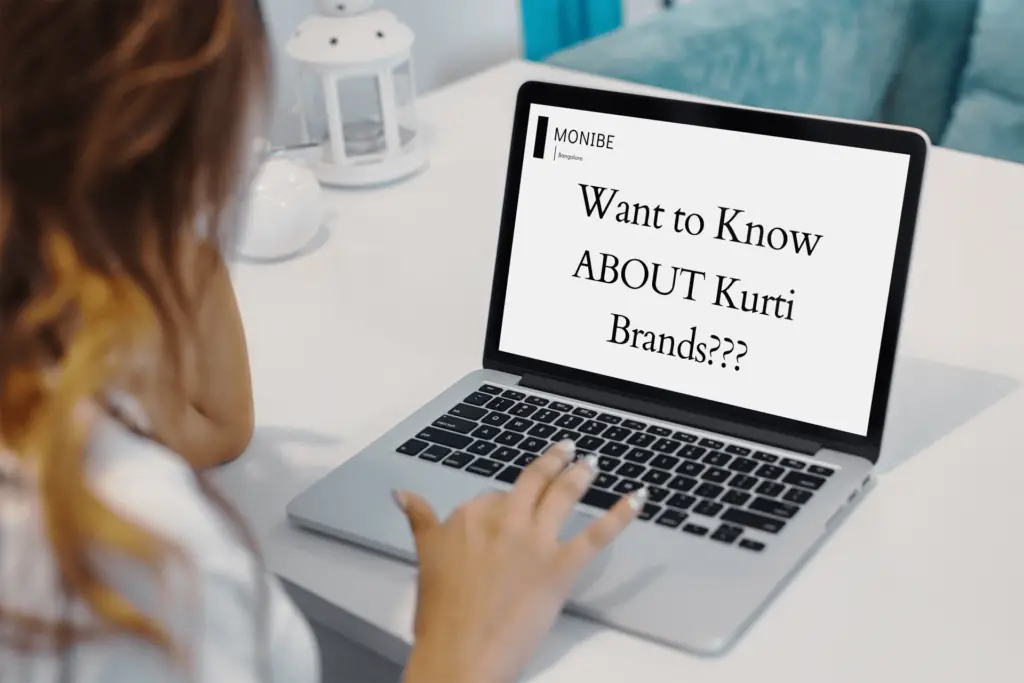 Read the whole article for a complete overview of all Kurti labels.
1. Global desi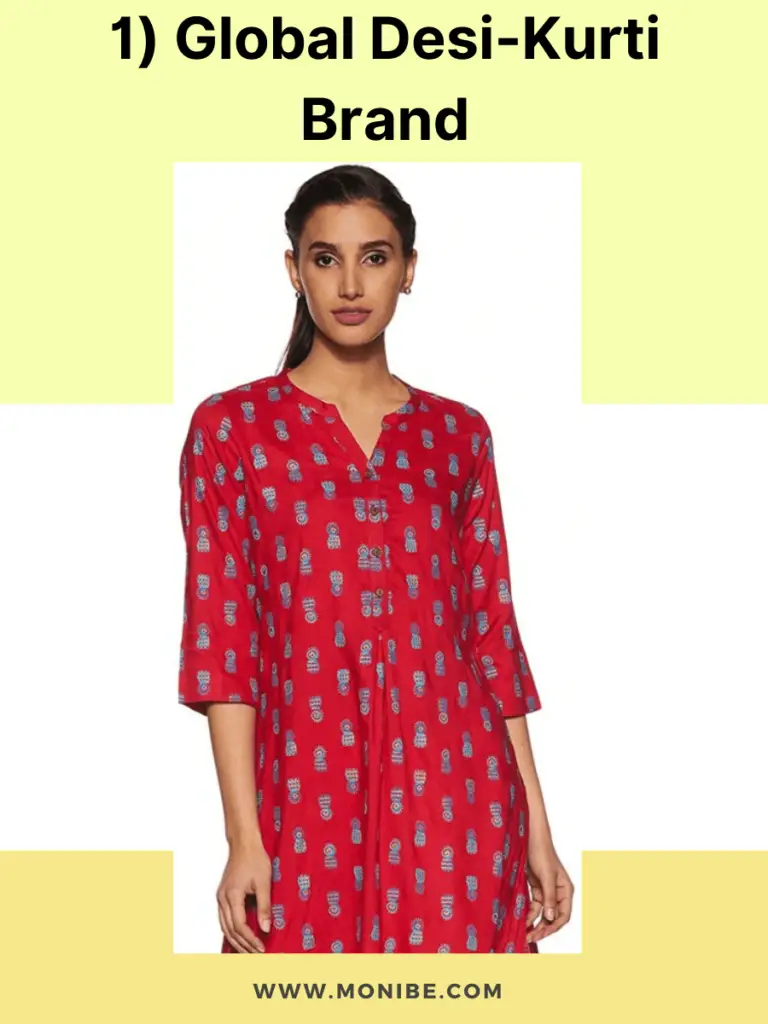 more Kurtis by Global desi.
This brand, which is one of India's leading Kurti brands, offers a wide variety of traditional and contemporary collectives. check out their official site global desi ladies Kurti wear.
This brand is modernizing ethnic fashion by giving it a distinct look best option for the next shopping objective. Kurtis is available in a variety of sizes.
This Brand offers a wide range of other clothes like blouses, sarees, tops, and more.
Prices: start at Rs 679 and go up so then.
2. Fabindia
Check for more Fabindia Kurti.
This is one of the most well-known Kurti brands, particularly for its ethnic wear Kurti range. for online shopping visit their official website, even fabindia has its own saree brand. The best options like Kurti for teen girls and Kurti for kids as much on the official site.
They also offer a wide range of options to choose from, such as cotton plain short Kurtis, Designer Kurtis, Silk Kurtis, Long Kurtis, Anarkali, and Kurti suits, if you are looking for matching like Kurti with palazzo or Kurti with leggings, and more,
all while keeping tradition in mind, Price varies from Rs 1600 and so on.
3. Libas
For more kurtas
Libas the best budget-friendly stylish Kurti brand that doesn't sacrifice product consistency, A famous brand among young people, with a sleek and contemporary aesthetic. visit Libas Price: Starts from Rs 674 and so on, check out the website for more information.
Tips: wear some branded jewelry for an elegant look with ethnic Kurti.
Ex: Below is a denim a-line, Kurti, by Libas
4. Biba
Check for more Biba kurta
The Biba This Kurti brand offers a wide range of Kurti/kurta wear, with Kurtis ranging from everyday wear to festive wear.
This Kurti brand is included in the list because of its longevity and the fact that it is an ethnic brand that is well-liked by most women. check Biba for more, Prices: start at Rs. 899 then go up from there.
They have a wide range of sets and combinations to choose from. Such as saree kurtas, toga Kurtis, cope Kurtis, and so on.
5. Aurelia
This Kurti brand has it all, from simple to embroidered. They feature a large collection of Kurtis and are the perfect option if you are looking for a Kurti-like shirt to pair your jeans, or a Kurti to wear on jeans.
They have exclusive styles in their ranges, such as woolen Kurtis, Anarkalis, shirt collar kurtas, strong collar kurtas, Kurti tops, printed Kurtis office wear, chikankari Kurti, and more. for more Aurelia Prices: start at Rs. 999 and go up from there.
6. Jaipur Kurti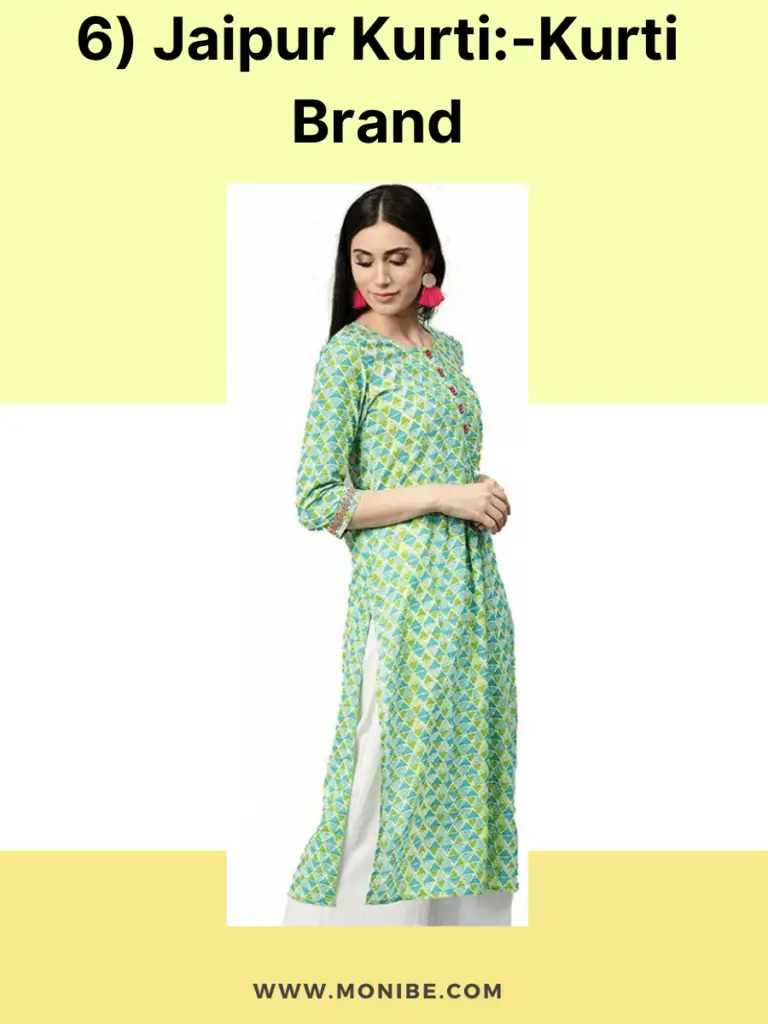 for more options for Jaipur Kurti here.
The name Jaipur Kurti refers to a Rajasthani Kurti brand that is both affordable and stylish. Cotton kurtas are fashionable for everyday wear and casual looks, and they are available on all online portals, famous brands for cotton kurtas.
beat option if you are searching for a Kurti to look slim, and pair it with the latest Kurti neck design.
7. Project Eva
For more Project Eva Kurtis.
the undertaking Eva, a common Kurti brand for western and fashion wear maintains its exclusive concept, concentrating on the 25-40 age demographic. visit Project Eva here price: ranges from Rs 749 and so on.
Reliance Retail owns the brand Eve, which features both Indian and foreign labels in its style.
Tips: Make sure You have the best Heels to match your Kurti.
8. Vishudh
Check for more Vishudh Kurtis.
the recognizable brand for women Kurti, If you want to stand out from the crowd, emphasize fascinating. If you're looking for a unique way to express yourself, this is the Kurti brand for you. price: ranges from Rs: 859 and more
One downside is that they do not sell plain-styled kurtas and Kurtis. They stand out from the market because of their individuality.
9. W for women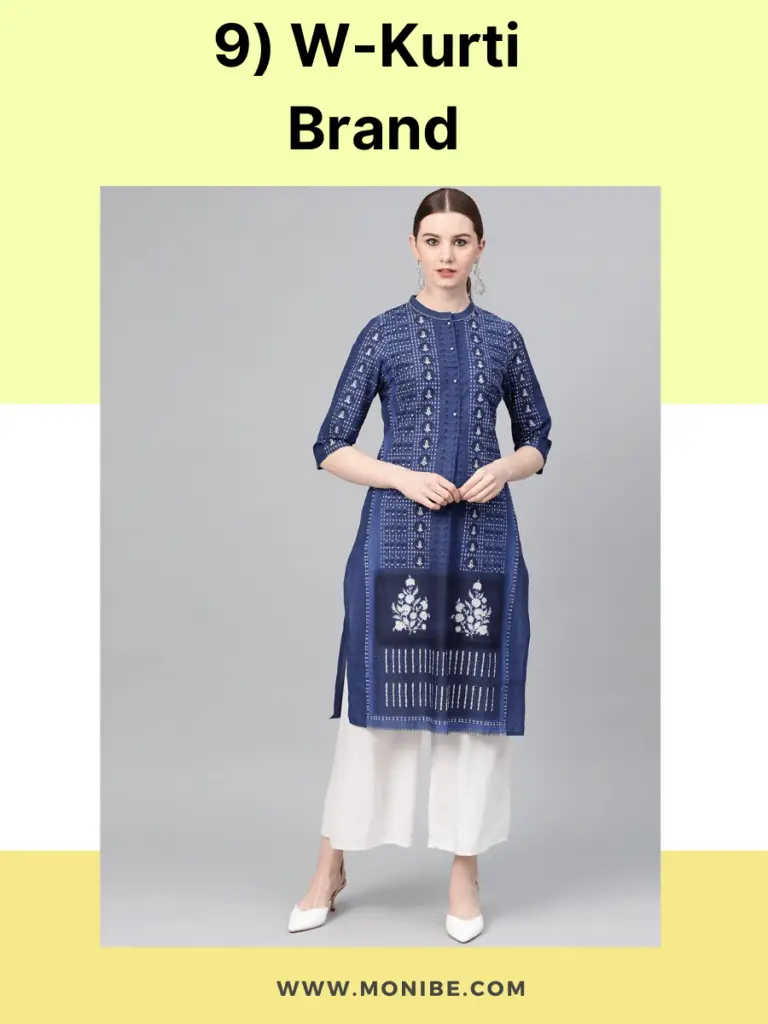 For more on w for women
The letter w denotes that the Kurti brand is inspired by the WEST in terms of style and design.
As well as redesigning in a stylish and fashionable manner.
With all of their sleek contemporary and traditional styles, this brand can be worn for any event. They also give the best discounts during the festive seasons, so keep an eye on the website to get the best price on Kurtis, Price: ranges from Rs 764 and more.
10. Soch
The well-known Kurti brand at a reasonable price, If you're hunting for affordable Kurtis and the best Kurti design 2021, this is the brand to go with
These lovely styles & sizes are included in all collections, an ethnic Kurti to wear at wedding checkout for more at Soch budget-friendly Kurtis under 600 price: ranges from Rs 598 onward.
Confused? Easy way to compare Kurti Brand Stay updated, Decode the right BRAND COMPARISON REVIEW
Difference between Global Desi and Fabindia Brand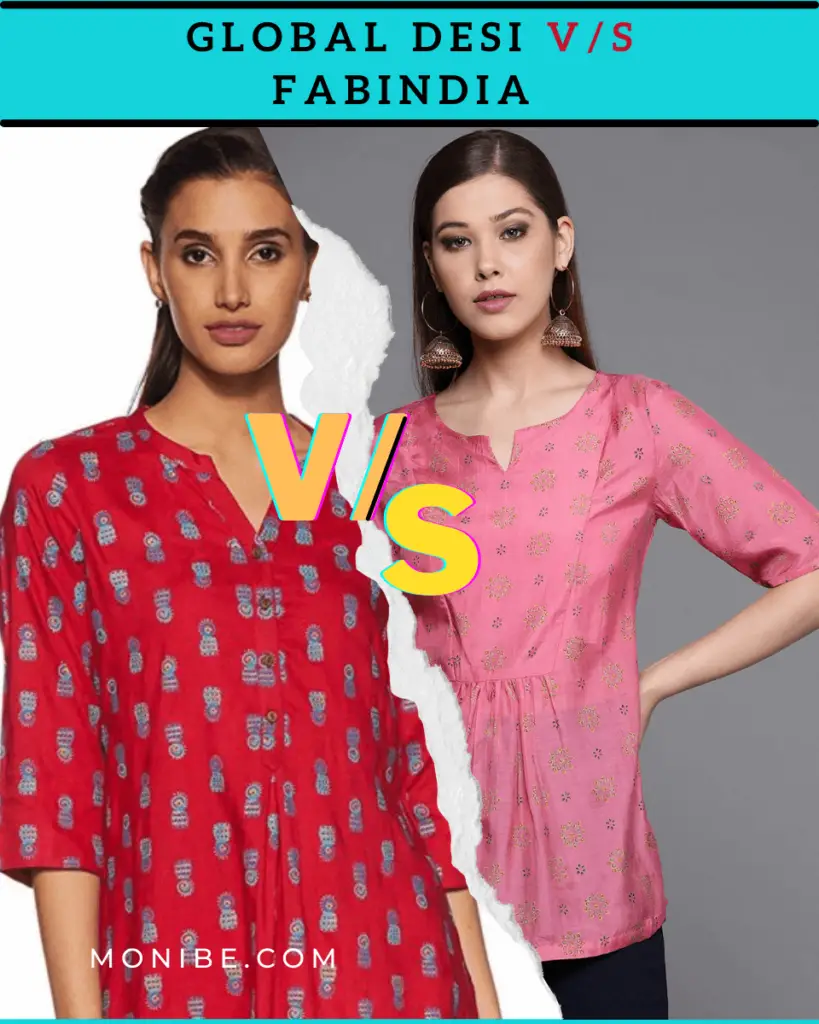 Global desi
Global Desi is the ultimate fashion brand for modern women, with a focus on women's attire. Modern fashion is all about mixing diverse styles and cultures,
and this brand incorporates many types of cultures into fashion, such as designs and colors, to keep you on trend. They offer fusion fashion for women's clothing, allowing you to stand out in a crowd.
They don't just sell Kurtis; they also have a vast range of other products like Dresses, Tops, kurtas, sets, and bottoms for girls Kurtas, dresses, maxi dresses, jumpsuits, tops, tunics, jackets, shrugs, skirts, and more in their collection.
Bonus tip: if you are purchasing for the first time, Use the Coupon code on the cart page GD10 you will get a 10% instant discount on any purchase on their official website, Happy shopping.
The brand material specification:
Fabric: Polyester
Pattern: Printed
Occasion: Casual
Fabindia
Fabindia is an Indian clothing company that offers a wide range of collectives such as furniture, fabrics,
and ethnic products that are handcrafted by rural skilled peoples across India, using ancient techniques and skills.
The fabindia brand material specification:
Fabric: Cotton Blend
Pattern: Printed
Occasion: Casual
Review by Customer:
The customer said that: It was fantastic. However, it is slim-fitting and comfortable.
Review: One girl said she bought this Kurti brand and reviewed it as Fabulous! The fabric, pattern, and color are all very nice. Simply amazing. It's fantastic.
What are the differences between Libas and Biba for Brand options?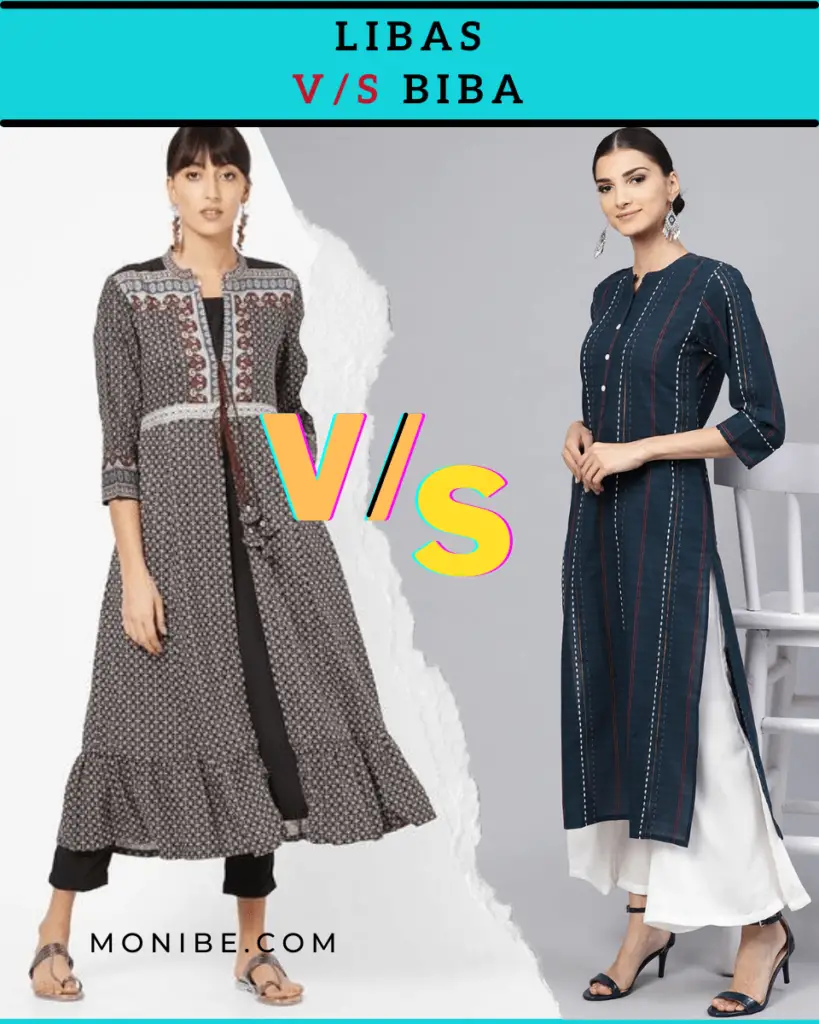 Libas
the brand that focuses on young stylish contemporary fashion libas brand that mainly focused on new-age woman trend.
which has a broad fashionable collection of ethnic as well as fusion wear, all of which are in step with current fashion trends.
Bonus Tip: Apply a coupon code [WELCOME10] at the checkout page, and you will receive a 10% first-time user discount.
The brand has 30,137 ratings and 4,334 reviews on Flipkart which is awesome. And the cool thing about Flipkart even they offer the 
14 Days Return Policy
Cash on Delivery is available
The material specification:
Fabric: Rayon
Occasion: Casual
Pattern: Printed
Aqua Blue, Baby pink, Beige, Coffee, Dark maroon, Firozi, Light maroon, Light rani, Mustard, Off white, Parrot green, Peach, Rani, Red, Royal Skin, Smoke grey, Wine
are just a few of the fantastic colors available in their collection.
Biba
Biba is a women's ethnic apparel brand; ethnic means Biba is the brand.
This was the first business to specialize in women's ethnic fashion dresses.
This ethnic brand's retail operation is now well-known throughout India.
Ethnic apparel that reflects the evolution of Indian ethnic fashion.
Bonus tip: if you Register or sign up for their form you will receive Rs 300/- Off On Your First Purchase.
Fabric: Pure Cotton
Occasion: Casual
Pattern: Printed
The brand has 207 ratings and 21 reviews on specific listings.
One certified buyer: said that This is an excellent kurta brand, but it is not entirely made of cotton;
it contains more than 80% polyester, but the Kurti is still good overall.
'Aurelia' or 'Jaipur Kurti? Which Brand is Best, How do they differ from one another and overlap
Aurelia
With the appropriate fit and quality, Aurelia, a TCNS brand that focuses on contemporary ethnic wear,
is the greatest alternative for casual as well as workwear. The classic brand for the trendy woman's wardrobe.
The Aurelia brand material specifications:
Fabric: Viscose
Pattern: Printed
Occasion: Festive & Party
One woman said:
Because of the intricate threadwork on this Kurti, it is incredibly delicate.
If they don't give a lining, I believe the product's longevity will decrease.
Jaipur Kurti 
Even though there are many brands and designs to choose from, Jaipur Kurti is a great brand for ethnic wear dresses.
They feature a large range of ethnic wear Kurtis and salwar suits for females, but unlike other brands, they are not limited to festivals and traditional occasions; they also provide Kurtis for office and casual use.
This Kurta can be worn with palazzos, pants, trousers, or bottoms. From everyday wear to ethnic wear, this Kurti brand is perfect for casual get-togethers.
The Jaipur Kurti brand specifications:
Fabric: Rayon
Pattern: Floral Print
Occasion: Casual
One girl had this to say about this Kurti brand:
The fabric is light but not completely transparent. However, it is not a cotton blend fabric.
Difference Between Project Eva and Vishudh Brand?
Project eva
Project Eve is a one-of-a-kind company that accommodates women between the ages of 25 and 40, with a special focus on Indian women. Its first store opened in Mumbai in 2017.
That brand only caters to women's needs and fashion trends. The brand offers sizes XXS, XS, S, M, L, XL, XXL, and more.
Note: This project Eva brand is now known as reliance retail as their website. They are now tied up with reliance, Now they only sell their products on ajio platform.
Project Eva Products description:
Fit: Straight Fit
Wash: Machine wash
Fashion: Mid Rise
Material: 90% cotton, 10% linen
The best thing about ajio is that they offer
Easy exchange
100% handpicked
Assured Quality
Vishudh
One satisfied customer after she [Bought and Reviewed] stated that he adores this brand.
The kurtas are beautifully made and designed. The quality is excellent.
I bought this kurta since it seemed quite similar to a kurta from another brand for half the price.
Even the parrot motifs on it were fantastic. The item was just as shown in the photos. and the material was excellent.
Easily paired with black or pink leggings. The brand has around 87 ratings and 12 reviews on Flipkart.
The vishudh brand material specification:
Fabric: Poly Cotton
Occasion: Casual
Pattern: Embroidered
---
What Is the Difference Between a W and a Soch Brand?
W for women
W is a well-known apparel manufacturer with a variety of labels, including kurtas, innerwear, and other items.
Every single product that the company produces has been certified by the government and is known for its high quality and comfort.
The W Company brand products may be found on all major websites such as Amazon, Flipkart, Myntra, and Ajio, as well as on their own website.
The w brand product specifications:
Fabric: Cotton Blend
Pattern: Printed
Occasion: Casual
Happy Customer feedback on W brand:
just wow! Another user said it's Excellent, Very good quality, and it's a lovely and comfortable kurta. the same as in the picture
soch
Soch is a well-known garment brand with excellent fabric quality. Cloths, too, are long-lasting and durable. 
Soch is a modern woman's ethnic brand. This is a good brand that focuses on all of a woman's requirements, desires, and tastes, and it is progressively evolving in the market. Kurtis, sarees, suits, bottoms salwar, and tunics are among the many categories available in the market.
The Soch product details:
Fabric: Cotton Blend
Pattern: Printed
One person said that 
A quite good Nice Kurti, but the fabric is very thin on the inside, even though lining was provided. The color was light and tinted, not exactly the same as shown.
Conclusion:
Not all brands are different, and each has its own uniqueness and fashion focus. Based on your requirements, choose the one that best meets your demands from all angles.
classic photoshoot ideas: Kurti's photography poses
Related topics that you may be interested in:
TOP 15 BEST LEHENGA BRANDS IN INDIA.
10+ Kurti Patterns Ideas & Kurti Designs.
Quick overview of Kurti's video:
To make it easier, I've created a comparison chart for the top Kurti Brands in India below.
| | | | |
| --- | --- | --- | --- |
| Sr. No. | Brand | Starting Price | Size |
| 1 | Global desi | Rs 679 | XS to XXL |
| 2 | Fabindia | Rs 1600  | XS to XXL |
| 3 | Libas  | Rs 674 | XS to XXL |
| 4 | Biba | Rs 899 | S to XXL |
| 5 | Aurelia | Rs 999 | XS to XL |
| 6 | Jaipur Kurti | Rs 649 | S to XXXL |
| 7 | Project Eva | Rs 749 | XXS to XXL |
| 8 | Vishudh | Rs 859 | S to XXL |
| 9 | W for women | Rs 764 | 6 to 18 |
| 10 | Soch | Rs 598  | S to XXL |
Brands Table
Frequently Asked Questions on Kurta/Kurti
Which brand of Kurti is good in myntra?
I felt incredible. There were so many different brands on the market that choosing the best one was difficult, The following is a list of branded Kurtis available in the Indian market as well as in myntra. 1. Global desi 2. Fabindia 3. Libas 4. Biba 5. Aurelia 6. Jaipur Kurti 7. Project Eva 8. Vishudh 9. W 10. Soch
Which is the best site for Kurtis?
Among the most popular websites are listed below: The best Kurti manufacturers and Kurti wholesalers have their listings on Flipkart, Amazon, Myntra, and Jabong. Even if you can easily buy on their official website, the top 10 best brands for Kurti in India can try. 1. Global desi 2. Fabindia 3. Libas 4. Biba 5. Aurelia 6. Jaipur Kurti 7. Project Eva 8. Vishudh 9. W 10. Soch
what is the difference between Kurti and kurta?
A lot of them make a mistake when seeking Kurtis because of the same spell. The main distinction between them is their height and length.
Kurtas: are usually up to the point of the knees or mid-calf length.
Kurti: is a shorter dress that comes up to the hip or mid-thigh, Kurti can typically be worn with all types of jeans, jeggings, skirts, etc.
Is Libas a good brand?
Libas is an Indian Kurti company that is well known for its palazzo kurta design. They have multiple physical stores in India, as well as selling apparel on Amazon, Myntra, and Jabong.
Which cloth is best for Kurti?
There are different kinds of fabric available in the market, each with its own set of benefits. The most common fabric used to make kurtas is cotton, which is the most widely used fabric all over the world because of its breathable nature. Cotton kurtas are comfortable to wear and are suitable for all seasons.
They are available in different colors and designs. If you have sensitive skin, then you must go for fabrics like viscose, silk, and modal which are soft and comfortable.
Which type of Kurti is trending?
Printed kurtas are trending as they are comfortable and come in many designs. They can be worn to work or casual events as well. What fabric to choose?
 
Cotton, silk, and linen are the best fabrics to choose from for kurtas as they are soft on the skin and comfortable. What color to pick?
 
Choose printed kurtas in black, red, blue, grey, white, and other dark and vibrant colors. When to wear?
 
Kurtas can be worn at any time of the year as they are comfortable to wear.
How can I look attractive in Kurti?
One of the most common questions asked by women all around the world is 'How can I look attractive in Kurti?'. This can be slightly tricky as Kurtis are a very comfortable garment and there are no rules as to how you have to wear them.
 
However, there are a few tips and tricks that will help you to look your best in these garments.
 
Firstly, you need to make sure the fabric of your Kurti is the right thickness for the time of year. If it is too thick, then you will find it difficult to look attractive in it as it will feel uncomfortable and will not suit the weather conditions.
 
Secondly, you need to make sure that the cut of your Kurti is right for your body type. If it is too tight, it will look unattractive as it will be uncomfortable and you won't want to wear it. If it is too loose, it won't suit your body type and you won't look your best in it.
 
Thirdly, you need to make sure that the Kurti is the right length for your body type. If it is too short, it will make you look unattractive as it won't suit your body type and will be uncomfortable to wear. If it is too long, it won't be flattering to your body type and again, it will be uncomfortable to wear.
How do I choose a Kurtis?
You can wear Kurti with jeans, leggings, shorts, skirts, or other clothing items. There are many different types of Kurti available in the market. You can choose the one that best suits your body type and clothing preferences.
Kurti comes in various silhouettes, necklines, sleeve lengths, and fabrics. Some are suitable for formal events and others are more casual.
What about the Kurti fit?
There are various ways to make your Kurti look more attractive. The first thing you need to do is to check the size of the Kurti. It should fit you very well. Also, you need to make sure that the fabric of the Kurti suits your body type.
For example, if you have a curvy body type, you should try to go for flowy kurtas because they will help to hide some of the curves. Similarly, if you have a petite body type, you should try to go for a fitted Kurtis.
There are different ways in which you can style your Kurti to make it look more attractive. For example, you can try to wear a high-necked Kurti with a cardigan or a blazer to make it more formal. You can also try to go for a patterned Kurti.
What's the best fit for a kurta?
Kurtas are loose-fitting garments, which means that there's plenty of room for variation. They can be long or short-sleeved. They are made from various fabrics, which means that the fit will vary accordingly too.
Are rayon Kurtis good?
Yes, it's good, rayon Kurti is one of the best brands available in the Indian market.
What are the different styles of Kurti or kurta fabrics or what is the Kurti made of?
The most common fabric materials for Kurtis are described below. Fabric content influences price, feel, and fashion, which is determined by comfort as well as occasions and seasons.
Rayon Kurtis: breathable and permeable
Silk Kurtis Kurtis: traditional royal look
Cotton Kurtis: most common, summer
Georgette Kurtis: elegant and lightweight
what are the various styles of Kurti?
A-line Kurta 
Anarkali 
Angar
denim Kurti
high low Kurt
kurta with pocket
straight kurta
short and flared Kurti
shirt Kurti